Culinary. Sightseeing
Enjoy the highlights of three selected traditional Salzburg-Restaurants during your 60 minutes sightseeing-tour.
Before you start your horse-carriage-ride you will be welcomed with a glas of Austrian sparkling wine and a small savory delicacy of the famous Hotel Goldener Hirsch. After that we prepare the most exklusive "Dinning-Table" of the entire city for you.
Your package include:
* 25 min. aperitif with Austrian sparkling wine and mini-sandwiches
* personal butlerservice
* 60 min. horse-carriage-ride
* 2 x 3 course menu of three typical austrian restaurants:
1. course – Hotel Goldener Hirsch:
Home marinated salmon with dill-mustard sauce, roll
2. course – Hotel Sacher:
Original Viennese Schnitzel of veal, parsley potatoes
3. course – Café Tomaselli:
Old viennese Applestrudel, whipped cream
Beverages:
* 1 bottle 0.7 l Grüner Veltliner
* 1 bottle 0.7 l mineral water still or sparkling
Start and finish of your ride: Hotel Goldener Hirsch, Getreidegasse 37, 5020 Salzburg
Rate per carriage 2 people from Euro 485,–
Rate per carriage 3 people from Euro 540,–
Rate per carriage 4 people from Euro 595,–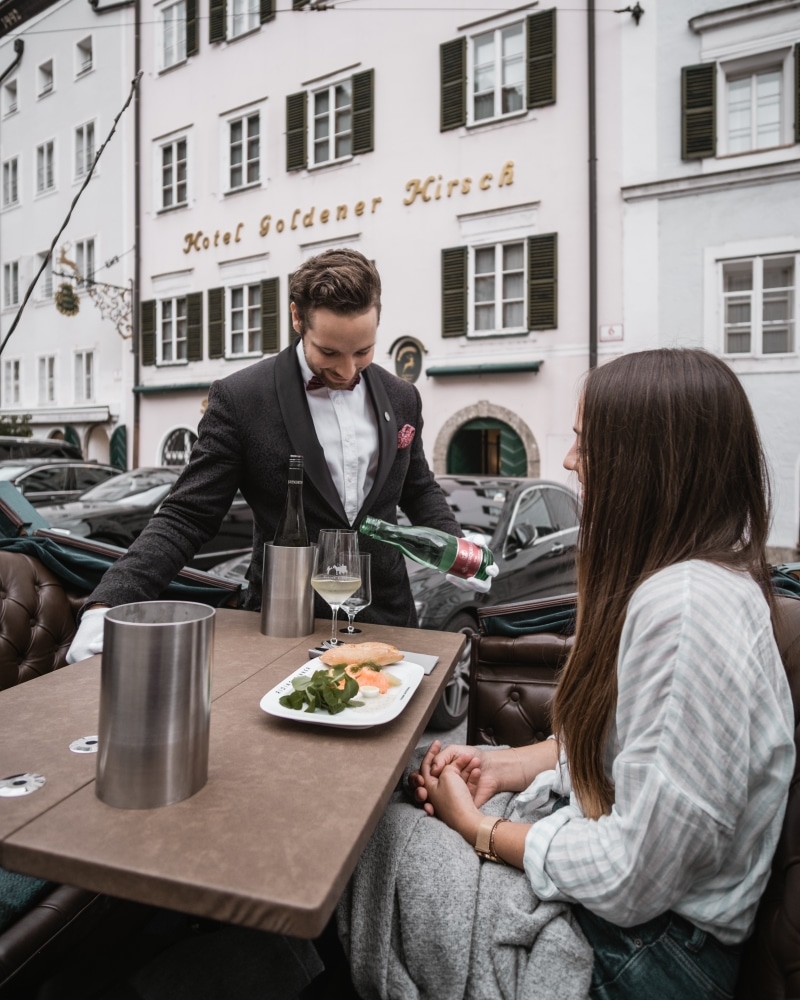 Sparkling. Sightseeing
Perhaps the most unforgettable 40 minutes of your unique Salzburg-experience. Make your horse-carriage-ride a little more special. Enjoy some Austrian sparkling wine as well as small savory and sweet delicacies brought to you by one of the most traditional Hotels of Austria, the Hotel Goldener Hirsch.
Prices are listed per horse-carriage-ride (maximum of 4 persons).
– Personal coachman
– 8 mini sandwiches
– various classics
– 8 petit fours
– 1 bottle 0.7 l sparkling wine
– Table, Glasses & Cooler
Start and finish of your ride: Hotel Goldener Hirsch, Getreidegasse 37, 5020 Salzburg
Rate per carriage max. 4 people from Euro 345,–